CNN科技2013年度十大思想家(下)
#研究分享#【CNN科技2013年度十大思想家(下)】6.Elon Musk:特斯拉、SpaceX CEO,使航天探索私人化、制造更好的电动汽车;7.Andrew Ng:Coursera创始人,使人人享受顶尖大学教育;8.Jennifer Pahlka:白宫CTO,技术使美国政府办公更智能、更高效;9.Bre Pettis:MakerBot创始人,使3D打印走进普通大众;10.Shyam Sankar:Palantir主任:利用大数据挖掘来打击犯罪。
The CNN 10: Thinkers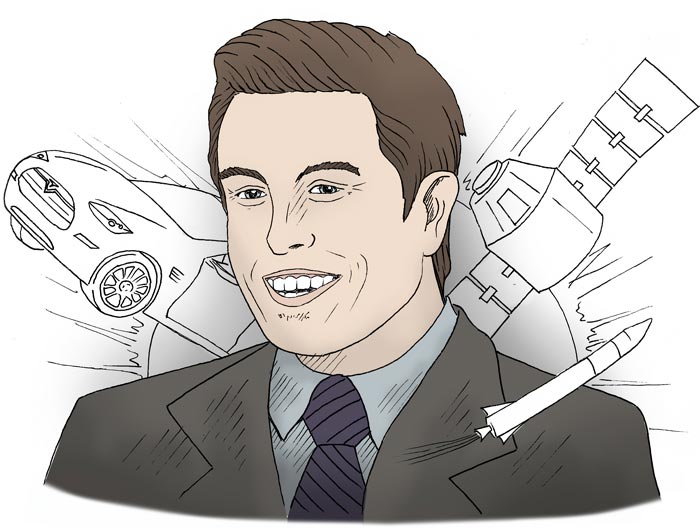 Illustration by Michael Manisa
Elon Musk
6 of 10
ROLE

CEO, chief technical officer and chairman at SpaceX, Tesla Motors and SolarCity

AGE

42

IDEA

Privatizing space flight, building a better electric car

QUOTE

"It's not as though I was convinced that it would all work. I thought, 'Well, it probably won't work, but it's worth a try because the outcome is important.'"
By Doug Gross, CNN
Soon after becoming a dotcom billionaire with PayPal, Elon Musk set some rather ambitious goals for himself. He wanted to fix the biggest problem in the world -- and tackle perhaps the biggest problem in the universe.
That's taken three forms: SpaceX, a private company that has conducted missions to the International Space Station; Tesla Motors, which builds high-end electric cars; and SolarCity, which designs and finances solar-energy systems.
The South Africa-born serial entrepreneur, who first sold computer code for a video game when he was 12, is CEO and chief technical officer of the first company, the CEO of the second and chairman of the third.
"What SolarCity and Tesla are about are solving what I think is the most pressing terrestrial concern, which is the sustainable production and consumption of energy," Musk said in March at the South by Southwest Interactive festival in Austin, Texas.
"What SpaceX is about is helping solve the biggest non-terrestrial problem, which is the extension of life beyond Earth."
That's right. The company's ultimate goal, Musk says, is a self-sustaining colony on Mars.
Musk says the key to innovation is a willingness to take risks. He has an estimated net worth of $6.2 billion -- good for No. 61 on the Forbes 400 list – but says he was virtually "all-in" by committing his fortune to his three post-PayPal projects.
All of them were a bit of a gamble.
"When starting out Tesla and SpaceX, in both cases, I thought the odds of success were less than 50%," Musk said this year. "So it's not as though I was convinced that it would all work. I thought, 'Well, it probably won't work, but it's worth a try because the outcome is important.' "
His has been a life of risk-taking. Musk moved to Canada at age 17 to avoid serving in the apartheid-era South African army. He left a Ph.D. program in physics at Stanford after two days to pursue a career as an entrepreneur. Then, with success few could dream of, he bet it all on space, electric cars and solar panels.
Of his three ventures, SpaceX may be the most ambitious. Fueled by a childhood love of author Isaac Asimov's science fiction, Musk said, he grew frustrated that there was no mission, by NASA or others, to get to Mars. So he dived in, knowing that setbacks, even tragedies, could result before the achievement of a goal he hopes he sees in his lifetime.
"We should not be afraid of doing something just because some amount of tragedy is likely to occur," he said. "If our forefathers had taken that approach, the United States wouldn't exist."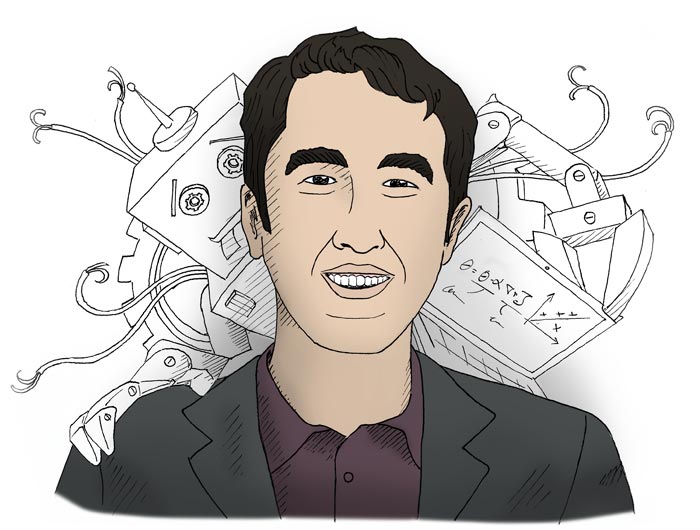 Illustration by Michael Manisa
Andrew Ng
7 of 10
ROLE

Co-Founder, Coursera

AGE

37

IDEA

To give everyone free access to top university courses

QUOTE

"A lot of my best work has been done on one lucky white sofa."
By Heather Kelly, CNN
In 2007, Stanford computer-science professor Andrew Ng stuck cameras in the back of the university's classrooms and videotaped a bunch of professors giving lectures. He uploaded the videos to the Internet, and a little slice of Stanford was suddenly available to anyone for free.
In doing this, Ng, whose research focuses on machine learning and artificial intelligence, discovered a new passion for free online education. He played around with the concept by chopping the long lecture clips into more manageable 10-minute chunks, launching two open online courses and eventually co-founding online-learning site Coursera.
It took Ng four years of prototyping the technology for Coursera in his living room before he thought it was good enough to launch. Soon, the site was offering classes in a variety of disciplines by top professors at Stanford, Columbia, Johns Hopkins and other leading universities.
Now, Ng is on leave from Stanford to focus on Coursera full time. He doesn't think Web courses can ever replace face-to-face learning on campus -- they still lack a sense of community and one-on-one relationships with mentors -- but he's determined to improve the online-education experience.
One way he's tackling that is in a classic research manner. Education research has primarily been an anecdotal science, but Ng is trying to make it more data-driven. For example, Coursera can see students' keystrokes, track how long they pay attention to lectures and even see which multiple-choice answers they choose on tests before changing their mind.
"The amount of data per student we can collect is unprecedented in education," he said. "We're starting to mine this data for insights about human learning."
Today, Coursera offers almost 500 courses by 85 universities in 16 countries. More than 4 million students have signed up.
In one early success story, Ng discovered that 2,000 students submitted an incorrect answer to a question in an online quiz. By looking at the data, he identified a common math mistake and added a custom error message for future students.
It was the kind of mistake that wouldn't necessarily have been corrected in an on-campus class, a fact that's not lost on Ng.
"In order to get this highly personalized experience for students, what was needed was to teach a class for a hundred thousand students," he said.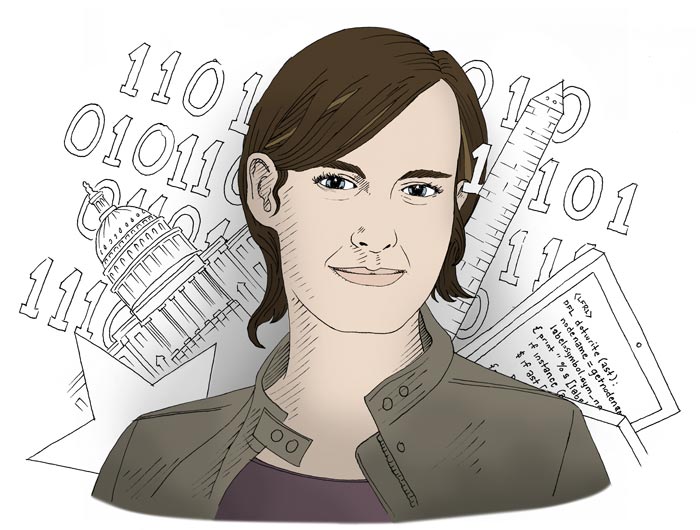 Illustration by Michael Manisa
Jennifer Pahlka
8 of 10
ROLE

Deputy CTO, White House

AGE

44

IDEA

Creating tech tools that make government more efficient and responsive

QUOTE

"That space of being between things where you can see how one group of people see things and you is really where I get my energy. I think that intersection is very fertile for me, finding the best of both worlds."
By Heather Kelly, CNN
When you think of technological innovation, the U.S. government isn't what springs to mind.
And that's exactly why Jennifer Pahlka has her job.
Pahlka is spending a year as the deputy chief technology officer at the White House. She manages the presidential innovation fellows program, which brings in sharp minds from outside Washington to help improve the U.S. government's use of technology and make federal agencies smarter and more efficient. In this way, she brings a lean, startup-like style of thinking to intractable government bureaucracy.
"Technology is making it possible to fundamentally reframe the function of government," Pahlka said in a well-received TED talk last year.
Pahlka has experience straddling the worlds of technology and government. She also founded Code for America, a nonprofit organization that connects tech professionals with local governments to improve basic services.
In one of its most famous successes, a Code for America software developer built an app that helped clear fire hydrants in Boston after they were buried in a massive snowstorm. Citizens could sign up through the app to "adopt" a hydrant in their neighborhood and dig them out after blizzards; in exchange, they got to name their hydrant. Through crowdsourcing, the app addressed a civic problem that the city's beleaguered fire department couldn't solve on its own.
"I work on the borders between things," explained Pahlka, who has also worked in the video game industry.
Reforming the machinery of government is a far cry from what Silicon Valley types are used to. Government change moves much slower, for one thing, because so many stakeholders are interested in each project.
But by encouraging tech-minded citizens to help tackle civic problems, Pahlka hopes to make the federal government function more like the Internet itself: open, collaborative and solution-oriented.
In this way, she might help accomplish something few have been able to do lately: easing Americans' frustrations with Washington gridlock.
"When you do make something happen, it happens at an enormous scale," said Pahlka, who will return next year to running Code for America. "You're not just doing it for a customer base. … You're doing it for all the American people."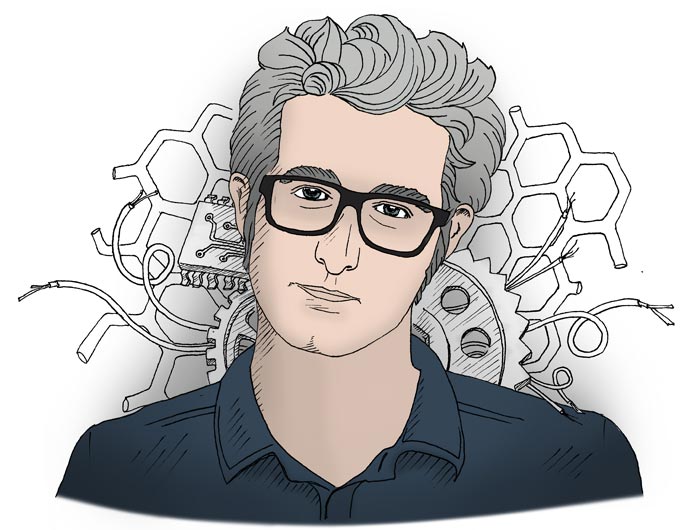 Illustration by Michael Manisa
Bre Pettis
9 of 10
ROLE

Co-Founder and CEO, MakerBot

AGE

41

IDEA

Bringing 3-D printing to the masses

QUOTE

"We innovate so others may innovate. Seeing what people do with the MakerBots we put out into the world is a constant source of inspiration."
By Brandon Griggs, CNN
Bre Pettis is not the first person to pioneer 3-D printing, the emerging process of manufacturing items from digital models by programming a machine to print them, layer by layer, using molten plastic or other materials. But nobody has done more to bring 3-D printing into the mainstream as an affordable option for small-business owners, craftspeople or people just tinkering in their garage.
"I think we can safely say that if there is a 3-D printing revolution, he is the commander in chief," said Hugh Forrest, director of the South by Southwest Interactive conference, in introducing Pettis's keynote talk there this year.
Pettis spent seven years as an art teacher in Seattle's public schools, where he found that his students paid the most attention when he demonstrated how to make something. A lifelong tinkerer, he had heard of 3-D printers but couldn't afford one; until recently, most models cost tens of thousands of dollars. So he figured out how to make one himself.
In 2009, Pettis and two friends raised some viagra for less in the usa cash, founded MakerBot Industries in Brooklyn, New York, and began building primitive 3-D printers. Their first models were made from plywood. Back then, 3-D printing was almost unheard of, so Pettis often had to explain the concept to people.
"In the very beginning, when I told others that I made 3-D printers, they would look at me and scratch their head. It's always been a bit of science fiction," he said. But early demand was surprisingly strong.
"We made what we thought was enough to sell over several months. Instead, they sold out in days," he added. "That's when we knew we had something big."
Today, MakerBot is a leader in making desktop 3-D printers that sell for $2,000 to $3,000 – within reach of many designers, entrepreneurs and consumers. The company is at the forefront of the burgeoning "maker" movement, which celebrates a creative, do-it-yourself culture. Some experts predict that $99 3-D printers soon will soon be as common in home offices as desktop scanners.
In this way, Pettis has helped usher in a new industrial revolution: No longer are people at the mercy of manufacturers. Instead, they can produce their own parts to repair broken appliances, toys or equipment. In recent years, people have used 3-D printers to make everything from jewelry to dental prosthetics.
One of Pettis' favorite stories is about a South African man who lost four fingers in a woodworking accident and partnered via the Internet with a theatrical prop maker in Seattle to design a prosthetic replacement. They made a fully functioning "Robohand" on a MakerBot printer, the designs for which have been downloaded more than 36,000 times by people around the world.
"When you are a tinkerer or a maker and you want something," Pettis said, "you make it yourself."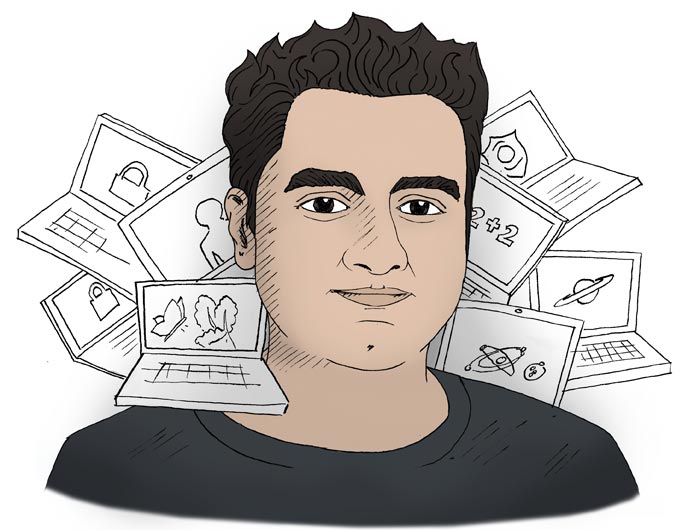 Illustration by Michael Manisa
Shyam Sankar
10 of 10
ROLE

Director of Forward Deployed Engineering, Palantir

AGE

31

IDEA

Mining big data to fight injustices such as financial fraud and human trafficking

QUOTE

"If you really want to solve problems in the world you have to be committed to going out into the world."
By Heather Kelly, CNN
Buried inside vast amounts of computerized data are answers to big questions, both helpful and lucrative. Shyam Sankar is working to extract those answers to solve crimes, fight terrorism and save lives.
Sankar leads a team of engineers at Palantir, a data-mining company with a reputation for mystery: It was founded in part with funding from the CIA, and its work has been tied to the National Security Agency's controversial surveillance programs.
Indeed, Palantir helps the FBI, the CIA, the Defense Department and other federal agencies fight crimes such as financial fraud by looking at large, sensitive data sets for anomalies and patterns. But Sankar has loftier goals in mind.
"I believe that a handful of computer scientists organized around a higher purpose can change the world," he wrote on his blog.
Palantir's philanthropy engineering team studies data to tackle such global problems as human trafficking, the spread of disease and the atrocities that can erupt suddenly in conflict-torn countries.
"The most valuable and elusive elements lurking within big data sets are often human: fast-moving targets such as terrorists, cyber criminals, rogue traders and disease carriers who tend to slip through the cracks," Sankar wrote.
Private companies have hired Palantir to help them operate more efficiently. For example, Palantir works with health care companies to help them identify populations that are at risk for disease or other illnesses.
And Palantir's data-crunching has helped responders find order in chaos after natural disasters. After the 2010 Haiti earthquake, a Palantir program helped aid workers map the locations of collapsed buildings and camps of the suddenly homeless. The company offered similar services to New Jersey officials after Hurricane Sandy struck last year.
Sankar is interested in the human pieces of these data puzzles and believes that technology should amplify human intelligence instead of trying to replace it.
Even with Palantir's powerful computers, all problem-solving starts with people's insight and creativity, he said. No algorithm can replace that.
"That ability for the human to iterate on the problem is the crux of what we do," he said.
文章来源:CNN
文章链接:http://edition.cnn.com/interactive/2013/10/tech/cnn10-thinkers/
1 条评论