#研究分享#【千禧一代与前几代人不同的购物特点】
#研究分享#【千禧一代与前几代人不同的购物特点】美国调查发现,互联网世界中成长起来的千禧一代更喜欢线上购物,即使在实体店里也是如此。他们喜欢通过移动端购物。尽管他们热衷于社交媒体,但是电子邮件营销对他们依然有效。尽管这个群体平均负债往往被夸大,但是由于透支造成的债务仍然比较普遍。http://www.looooker.com/archives/40550
The term "millennial" may be overused, and the group it describes may arguably be two distinct generations lumped under one umbrella. Regardless, the concept of the millennial generation is among one of the most important consumer trends of the past 10 years—right up there with social media and mobile.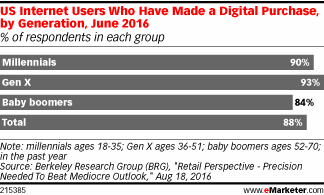 "[Marketers] think millennials will be more important for the marketing industry than any other trend right now except for mobile," said Yory Wurmser, eMarketer analyst and author of our latest report on US millennial shoppers. "That means more important than artificial intelligence, more important than big data and more important than virtual reality."
In the US, the millennial generation now outnumbers the baby boomer generation. (Subscribers to eMarketer PRO can read the full report here.) And its sheer size is key to gaining an understanding of this age group—it can't be thought of as a single, monolithic entity, Wurmser said. "The youngest millennials are on the cusp of college, while the oldest have already started to plan for their children's college years."
Despite the fact that millennials grew up with the internet, actual online purchasing rates aren't significantly different from other generations. In fact, a Berkeley Research Group (BRG) survey from June 2016 found that Gen X internet users had a slightly higher rate of digital buying than millennials: 93% vs. 90%. Even boomers lagged by only 6 percentage points.
Wurmser highlights four important factors and qualities that characterize millennial shoppers:
Millennials tend to prefer digital shopping, even while in stores
Although the average debt burden on millennials is often exaggerated, debt is widespread among this group
Millennials are comfortable with mobile shopping
Despite a strong presence on social platforms, millennials respond well to email marketing
标题:Four Things That Make Millennial Shoppers Different

来源:emarketer

链接:https://www.emarketer.com/Article/Four-Things-That-Make-Millennial-Shoppers-Different/1015149