#研究分享#【人工智能提升消费者用户体验】
#研究分享#【人工智能提升消费者用户体验】英国商业界的高级管理人员对AI 持有极大地兴趣,有66%的人认为通过AI可以提升用户体验,包括解答问题、导购等;超过50%的人也认为通过AI可以使人们专注工作,提升工作价值。但同时也对AI有一定程度的担心,36%的被访人士担心AI需要专门的人进行管理和控制,而29%的人则认为AI将会是一笔巨大的开支。相比之下,在美国,AI更多被用在预测消费者行为习惯而提升利润空间和用户体验。http://www.looooker.com/?p=33136
In the UK, AI Wanted to Improve Customer Experiences
When it comes to artificial intelligence (AI), UK senior business decision-makers overwhelmingly agree that can help improve customer experiences by providing new data. Nearly 50% also pointed to AI allowing for automation of tasks, freeing humans to focus on more valuable work.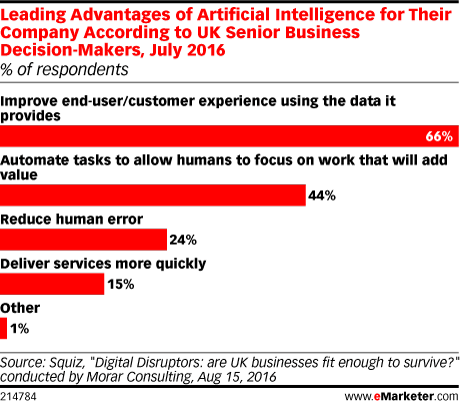 About one in four of those surveyed in July 2016 by Morar Consulting for digital agency Squiz say that AI will reduce human error, and some think AI will help them deliver services better. But there are plenty of AI concerns as well.
Over one-third of those surveyed said their primary concern is with the very concept of AI itself: 36% said they took issue with the lack of human control or oversight in AI. For another 30%, the primary cause for concern was the expense of AI, and one in four cited errors made by the AI as their leading concern.
While concerns over a lack of human control may never completely go away, AI production could assuage over 50% of respondents' concerns by figuring out ways to reduce market cost while minimizing AI errors. On the other hand, that substantial shares of respondents pointed to each of several different worries suggest the level of concern is far-reaching.

Meanwhille, in the US, almost 40% business executives believe that AI should provide predictions on activity related to machines, customers or business health, according to natural language generation firm Narrative Science and the National Business Research Institute (NBRI). Another 27% said they expect AI to automate manual and repetitive tasks.

While decision-makers in the UK were excited about how they could improve the customer experience via AI, in the US, that may not as true: Just 10% of those surveyed said they wanted AI to increase the quality of communications with customers. Across the pond, there are certainly different priorities when it comes to AI.

标题:In the UK, AI Wanted to Improve Customer Experiences

来源:emarkter

链接:https://www.emarketer.com/Article/UK-AI-Wanted-Improve-Customer-Experiences/1014381